We share with you, our experience for a multi-day Endurotrip, possibly abroad! SENO TECHNOLOGY tests its products in a carefree way and, of course, in accordance with the law. Let's plan a endurance test, we like to go to the Ukrainian Carpathians. There await heavenly Endurozustände, diverse Bodenbeschaffenheiten, Schwierigkeitssskills and above all courteous legal provisions.
In the following we present you an excerpt from possible starting situations, which can expect you. Furthermore, we would like to provide you with general tips and hints.
The following starting situations can expect you:
You are still on the way, it is night, in the middle of the forest:
Strategic situation assessment depending on the location. For example, to reach the property, you have to cross a ridge, with a time difference of about 30 minutes during the day, 10 kilometers. Alternatively, it is possible to reach the destination with a paved road 70 kilometers away and about 1.5 hours driving time. If you do not know the mountain route, you can stay overnight in the forest (see below). Play it safe and in case of doubt choose the comfortable asphalt solution.
Choke your pace! The illumination of the Enduro is very modest. Standing branches are quickly overlooked and pierce your body. You limp uncontrollably over undefined ground conditions that can maximize the risk of injury and cause a machine failure.
Try the easiest way to find a paved road to get to your destination.
Closed group trip, no departures denying another route. Accident risk increases many times over.
You got stuck in the forest, at dusk, ie not recoverable in the short term and you have not planned bivouac:
Search for the nearest accommodation eg Hotel / Pension / Dorfunterkunft. Reason: In the forest it could be uncomfortable at night. Humidity and cold are the minor problems, while bears and wolves pose a greater danger.
Mark the position of the motorcycles in the Navi.
If necessary, camouflages the motorcycles with woods, foliage. You will not experience a nasty surprise the next day. Could interested loggers with heavy equipment come by and accidentally take the Enduro.
Either you can do the salvage the next day alone or try to organize external help, eg tractor, tracked vehicle, off-road truck or manpower from the village.
You are on the mountain massif, weather change, strong thunderstorm and hail:
If foreseeable and the time permits, as soon as possible down to the valley.
Behavior in the event of a thunderstorm: 1. Away from exposed areas and water-bearing areas. 2. Quickly remove from the motorcycles. 3. Remove metal equipment. 4. Cower on crouching or on small-area insulating equipment
Fuel gone out:
Recommendation: Tank in relatively short intervals. Advantage: poor fuel quality can mix with better.
Explore in advance (Google, map material) all gas stations and marks them in the sat nav.
Tank empty in the pampa. Several drivers: 1. Each individual can help out the needy with a little bit of fuel 2. One / two drive off and pick up fuel from the nearest gas station / possibility. Single driver: Visit the nearest village and ask for fuel. Mostly you can buy bottled fuel in bottles in backyards.
Motorcycle broken (additional stand-alone blog):
Eliminate risks and take away potentially failing components. For example, clutch, radiator, handlebars, lever fittings, swingarm, wheelset, ...
Pack wearing parts! Tire set, hoses, brake pads, oils, brake fluid, see also Packing list for a Hard Enduro stage tour created by SENO TECHNOLOGY / SENO-OFFROAD
Frame breaks, if the frame is made of steel, can be welded in almost every village. In contrast, finding an aluminum welder is usually a bit more problematic.
Do not trust every mechanic blind! We've ever been conical bearings installed upside down. Is standing there all the time and looks at the mechanic's fingers.
We will create a separate blog for temporary repairs.
Medical emergencies:
Recommendation: Obtain information on primary health care in the country concerned.
In various third countries and new EU accession countries, medical care is inadequate. Possibly. You should consider leaving the country in an accident.
Recommendation: In some cases it is more beneficial to listen to your instincts and shipping and to act yourself. For example: Hygienic conditions in the hospital, cats walk in the hospital (has happened to us already), the floor is dirty, Does the staff use gloves? Maybe in such cases it would be better to change the hospital or even the country. Nobody wants to have a bad infection for a small bone fracture for free.
Further hints and tips:
Tour planning (independent blog)
Inquire in advance about country-specific conditions and safety instructions. The page from the Foreign Office is a good basis https://www.auswaertiges-amt.de/de/ReiseUndSicherheit/reise-und-sicherheitshinweise
Plan the tour carefully! Study maps, evaluate satellite imagery, create a itinerary with alternatives. Mark possible accommodations, gas stations, medical supplies, etc. on the map. The topic we deal in detail in a separate blog.
Check the bike! Exchange wear parts in advance, you do not want to look for four days for new wheel bearings. We will make an extra contribution.
Compile driving equipment, see also Packing list for a Hardenduro stage tour created by SENO TECHNOLOGY / SENO-OFFROAD
Check the condition of the driving equipment! Are the steps still good for the tour? Faulty stuff renewed in advance. Suburb it is mostly problematic.
Are you fit? What is the condition? Do you have to be muscular? Do you have a pre-existing condition that has not recovered yet? If necessary, estimate in good time whether you can deny the tour health.
Are the transport vehicles (cars / trailers / vans / buses) in a roadworthy condition? The destination could be a few thousand kilometers away. Rather change the cracking drive shaft prematurely and saves you a lot of stress at the destination or even on the way there or back.
All documents available? Is the identity card sufficient or does the passport have to be presented? Vehicle certificate (motorbike, if necessary transport vehicle), if necessary, pack green insurance card, see also Packing list for a Hardenduro stage tour created by SENO TECHNOLOGY / SENO-OFFROAD
First aid
Take a first aid kit! These are especially for motorcyclists in compact dimensions.
Supplement the bandage bag with a disinfectant, eg Betaisodona, so you can quickly supply open wound.
Navigation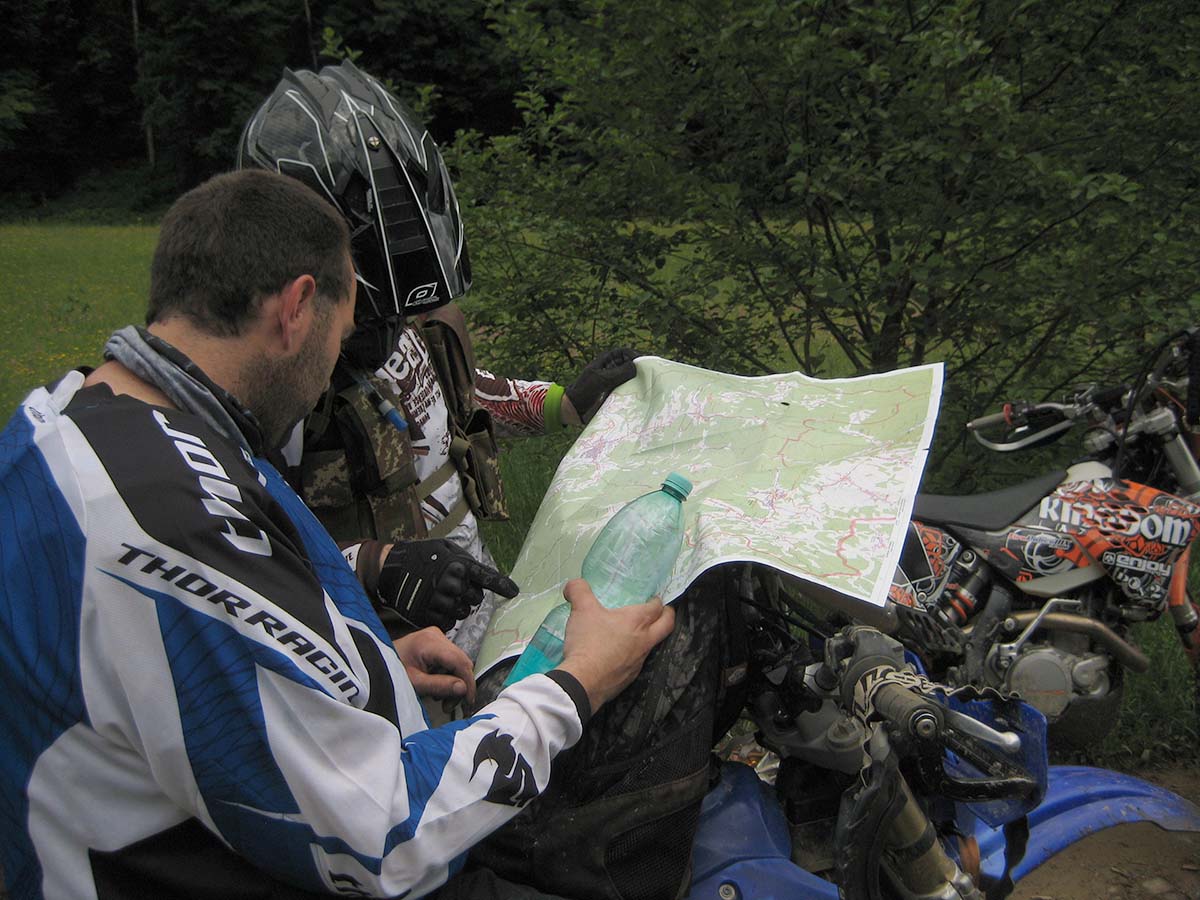 Separate navigation device and smartphone! Smartphone should be operated battery cells, in an emergency you should still be able to make phone calls. Furthermore, the smartphone stows safely in your backpack / belt bag, ie waterproof and fallproof.
If the navigation device should fail, you can continue to use the smartphone for navigation.
Recommendation for the navigation device: Battery operated AA or AAA. If the manufacturer-specific battery is empty, you may need to continue without the navigation device. The battery type AA or AAA is there at every gas station / supermarket / village.
For backup and overview we recommend taking folded maps out of paper / plastic.
Listening to music while driving
Disconnect smartphone and music player! See navigation point.
If necessary, use a simple music player with AA or AAA batteries. The advantage is the fast energy exchange, the batteries are available at every gas station.
Vehicle tools
Mostly the included board tool is either of low quality or insufficient. Replaces all unsatisfactory tools with valuable ones and, if necessary, supplements the tool. We are happy to take another 180 Knipex Cobra water pump pliers. For minor repairs, you have to rely on the tool!
Pepper spray/ KO gas
Useful helper when used against wild animals, such as bears, wolves, dogs but also against alcoholized people advantage. For incidents use pepper spray rather than your hands and legs, thus minimizing your injury risk and possibly your attacker.
Batteries
Always take reserve batteries with you! Most of the battery or battery in the middle of the forest in the knee and best at night. Replacement batteries ensure you continue driving with the Navi or a salvage / repair at night with the headlamp. But you can also listen to music again.
Motorcycle safety
Recommendation: Light brake disc lock + neon spiral cable (attachment to the handlebar). The coiled cable has two advantages: 1. You do not forget to unlock the brake pad 2. Enhanced signal effect to a potential thief.
Short-term shutdown: engage highest gear -> aggravate, unauthorized the quick removal of Enduro.
If no ignition lock is available. Install and activate toggle switch for continuous engine, thus the machine can not be started.
Risk-reduced driving style
See medical emergencies.
Avoid heavy falls by reducing your pace and exploring the racetrack at a moderate speed.
Ideal group size
Our recommendation 3-5 people per group. This group size proves to be very effective. The decisive factor is firstly the group dynamics and, if necessary, assistance. Group dynamics: The larger the group, the more potential failures. For example, drivers get stuck, crashes, emergencies, motorcycle defects, while the entire group must wait and demotiviert over time. Assistance: In the event of an emergency, eg a serious fall or engine damage, the group can be separated safely and without hesitation. One driver stays with the injured, two drivers bring help. Why two? If one himself suffers damage during the auxiliary journey, he is covered by the second driver.
Solo driver (independent blog)
Get away from it! Because of the lack of assistance, the risk is extremely high.
As a solo driver, you are on your own! That means larger preliminary work is necessary. We will publish the topic of single drivers in a separate article.
Documents/ passport/ identity card/ vehicle registration card/ green insurance card
VStow all relevant documents in a stable and water-resistant case.
Scan all documents and place them in your Internet account / cloud / email account. If you lose, you have a quick backup.
We hope you enjoy your tour, your SENO TECHNOLOGY-Team.